Epoxy  Coating And PU Coating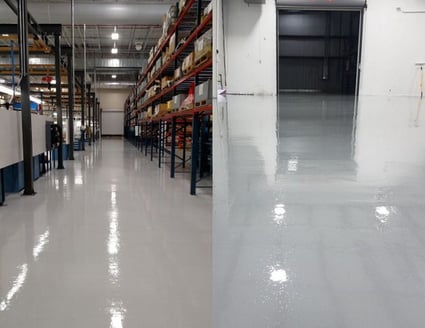 Epoxy Coatings
Durable, long-lasting protection
Epoxy flooring is one of the most versatile floor coatings on the market for industrial and commercial spaces. Epoxy offers superior hardness, a variety of color options, and a long lifespan, plus it's relatively low maintenance.
An epoxy coating consists of a polyepoxide resin and a curative. When applied on top of one another, the resulting chemical reaction creates a very hard and tightly-bonded coating that is stronger than either of its individual parts.
Epoxy is most often applied to protect and beautify concrete floors, but it also works on tile, vinyl, and metal.
Benefits of Epoxy Coatings
Durability – A properly bonded epoxy coating holds up under heavy foot traffic and resists damage from abrasions and impacts. It will continue to look good and perform well even under heavy wear, all the while protecting the concrete floor underneath.
Longevity – While epoxy's longevity depends heavily on many factors, most industries can expect 5 or 10 years of use before the coating needs to be replaced.
Aesthetics – Epoxy floor coatings come in virtually any color, plus textures including metallic shimmer and confetti-like color flakes. Colors can be applied in any pattern, including safety floor striping and company logos. As long as they are not overexposed to UV light, the colors stay vibrant for the lifespan of the coating.
Health and Safety – Epoxy coatings are easy to clean, and their impermeability to liquids prevents mold or and bacteria from growing in the porous concrete below. Additives of various aggregates can make epoxy floors slip-resistant or inhospitable to viruses (ideal for veterinary clinics and hospitals). You can also find USDA-approved varieties for food processing plants or electrostatic dissipative epoxies for electronics manufacturers.
Polyurethane Coatings
Durable protection with a glossy shine
If you're looking for a way to preserve the beauty of your facility's existing floor while giving it superior protection, a urethane floor coating may be just what you need.
Urethane floor coatings can be clear or pigmented and can be applied directly to concrete, over another coating, or even over hardwoods. Once the liquid resin cures, it creates an extremely tough and protective surface.
Benefits of Polyurethane Coatings
Durability – Urethane floors stand up well under foot traffic, and they resist abrasion damage well. They also resist corrosion when exposed to certain chemicals, making urethane a good choice for many industrial fields. (For facilities that handle especially corrosive chemicals, consider extreme chemical resistant flooring.)
Longevity – While the length of time between applications varies based on several environmental factors, urethane tends to be one of the longest-lasting floor coatings on the market, often enduring for a decade or more.
Aesthetics – Urethane provides a glossy or a satin shine and is often used as a topcoat to protect existing colors or patterns in the floor. Urethane flooring resists chips and scratches, so it continues to look good even after years of use.
Versatility – PolyUrethane may be applied in combination with an epoxy coating to give users the benefits that both floor coating types offer.
link sorce : https://www.cpcfloorcoatings.com/specialty-coatings/epoxy/